Reserve online
Hotel Apartamentos Compostela Suites Madrid
and save with our discounted rates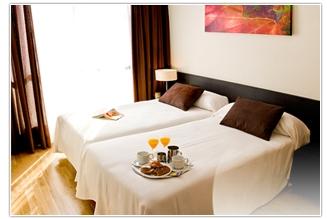 The Apartments Compostela Suites are located in Madrid, very close to the Barajas airport, the Fair Centre Ifema, Campo de las Naciones, Madrid Congress Palace and Shopping Centre Plenilunio.

The complex is surrounded by a lush garden area and offers a swimming pool for both adults and children. The kids will have a great time in the play area while mom relaxes and reads a book in a hammock, under the shady trees.

These independent style facilities are perfect for those travelling with children or large groups, due to the choice of 428 units that area available in the complex. There is a café and cafeteria where lunch, dinner or a small snack is served.

Wifi is found here as well as the common areas of the apartment complex.

Compostela Suites has a shuttle service between Compostela Suites and Barajas Airport. This service operates from 4am to 1am covering all terminals.
From Barajas to Compostela Suites, guests have to book the service.
From Compostela Suites to Barajas, ask for the service at the reception at least one day before departing.

There is secured parking for as many as 220 cars that offers direct access to the apartments.
Give us your Feedback
Apartamentos Compostela Suites, C/ Zambrana, 4 - Madrid